A hardwood floor is a great addition to any home, adding both beauty and value. But over time your hardwood floor coating may wear away, leaving your hardwood flooring looking worn and dull and leave it vulnerable to damage. But hardwood floor refinishing is not your only option in this situation. Hardwood floor recoating services from Paramount Flooring can bring the luster back to your hardwood floor in less time and with less expense than hardwood floor refinishing.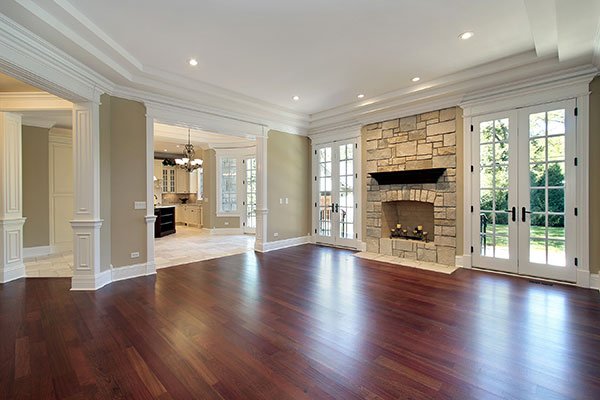 Hardwood floor recoating is sometimes also called hardwood floor screen and coat or hardwood floor buff and coat due to the process used to recoat the hardwood floor. A power buffer with a mesh screen is used to lightly scuff the floor to remove ground-in dirt, grease, grime, and contaminants. Unlike hardwood floor refinishing, Paramount Flooring's hardwood floor recoating process does not remove the original finish, but rather abrades the polyurethane layer of the existing finish to allow the new finish to adhere correctly. We then thoroughly clean your floor with mineral spirits to completely remove any dirt, oils, or other residue that may prevent the new polyurethane from properly adhering. Your hardwood floor is then allowed to dry thoroughly before we apply a new coat of polyurethane.
Hardwood floor recoating should be part of your regular hardwood floor maintenance. In addition to restoring the look of your hardwood floor, hardwood floor recoating also helps protect it from scratches, spills, water damage, and general wear and tear. Recoating your hardwood floor periodically can help extend the life of your hardwood floor and reduce the number of times you need to refinish it over its lifespan. How often you should recoat your hardwood floor depends on how much traffic it receives. Paramount Flooring recommends that hardwood floor recoating should be performed on low traffic areas every 3 to 5 years, while high traffic areas, such as kitchens and entry areas, may need to be recoated annually.
Knowing when you need to recoat your hardwood floor can be tricky. Hardwood floor recoating is most effective on floors that have slight wear and tear but are still in good condition. The best time to recoat your hardwood floor is before the existing finish wears off and before you see noticeable signs of damage. Hardwood floor recoating can be a great solution for hardwood floors that have minor wear and tear, small scruffs or scratches, or worn areas. It can also be a good option for revitalizing areas of a hardwood floor that were previously covered with carpet and for blending in areas where repairs were made to the hardwood floor.
There are some situations where hardwood floor recoating is not an option. Floors that have been treated with wax cannot be recoated. Hardwood floor screening cannot completely remove the wax, which will prevent the new finish from adhering. Hardwood floor recoating is not a viable solution for hardwood floors with gray patches, UV discoloration around rugs, deep scratches or dents, or pet stains. In addition if your hardwood floor has worn down past the color or you want to change the color of your hardwood floor, hardwood floor recoating is not an option. In these cases, hardwood floor refinishing is required.
The experts at Paramount Flooring would be happy to assess the condition of your hardwood floor to determine the best course of action and provide you with a free estimate. Let Paramount Flooring bring your hardwood floor back to its original beauty. Call us today at today at 816-564-2738.