Nothing beats the timeless elegance of hardwood floors. They feature some of the most elegant appearances in the entirety of the flooring world. When you walk into a space that features hardwood floors, the look is the first thing that catches your eye. From glossy finishes to hand scraped sophistication, hardwood floors make an impact on the entire environment where they are installed. They create a high-end look that works perfectly with any style or décor.
At one time, choosing wood flooring material was pretty straightforward. Everything was solid wood, and the only decisions were species like Oak vs Maple, or Hickory vs Exotic for example. Nowadays, there are an overwhelming number of options to sift through. While solid wood is still a popular choice, and the most durable, there is also engineered wood, reclaimed wood, and alternative materials that resemble wood. 
Paramount Flooring provides installation of all types of hardwood flooring, for all sizes of projects, from a single room, to an entire home, including the stairs and railings. We offer a full range of styles of hardwood flooring, from traditional, to custom floors with inlays, medallions, special borders or beveled edges.
Our new hardwood floor installation process begins with a design consultation and detailed project estimate. We will work with you to select the right wood type, stain color, and finish to create the perfect hardwood floors for your home. All of the flooring we install has been approved by the National Hardwood Flooring Association. We have all your material sources for whatever options you decide on.
Hardwood Flooring Options
Solid Wood – The original wood flooring option, solid wood is exactly what it sounds like. Solid wood is, as the name implies, a solid piece of wood from top to bottom, through its entire thickness of ¾ inch. Solid hardwood is the best for floors that are on the ground level or above. This type of flooring is ideal for the Kansas City area. Solid hardwood is very durable and long lasting, and can be sanded, refinished, or recoated multiple times over decades of its lifetime.
Popular Species of Solid Wood: 
White Oak * Red Oak * Maple * Hickory * Walnut * Cherry * Mesquite * Black Cherry * Cypress * Ash * Beech * Birch * Douglas Fir * Heart Pine * Yellow Pine * Hickory Pecan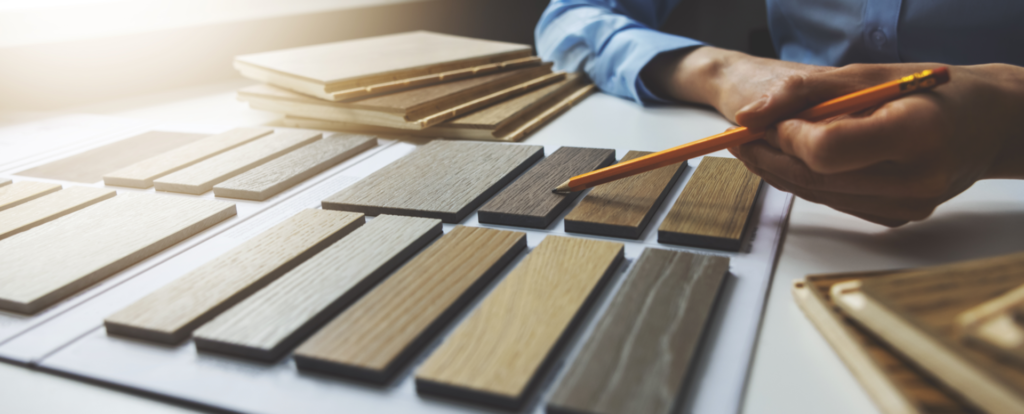 Unfinished or Prefinished- Then there is the choice between Unfinished or Prefinished floors. Prefinished boards are coated by the manufacturer, whereas unfinished or "site finished" flooring means the material is installed raw and stained and finished on-site. Unfinished hardwood flooring provides the homeowner with the ability to choose the staining and finishing style that they desire including a customer mix that may not be available with prefinished flooring. For some, a prefinished floor is more appealing because its convenient. Its ready to be used immediately upon installation. However, the place where the planks meet is then unfinished and potentially more vulnerable to damage.
Engineered Wood Flooring – Engineered Wood Flooring is actually made of combination wood and other organic materials and is very different from traditional wood floors. Engineered wood is anything that has a real wood layer, which means the top surface is real wood. It can have different constructions like plywood all the way through, or it can be a composite product on the bottom side. The very thin top layer of an engineered wood floor is actual real wood. Since the layer is extremely thin, not all types of engineered flooring can be sanded to the same degree as a traditional solid hardwood floor. Because of this, the appearance of deeper scratches, scuffs and dents will require the planks to be replaced more often.
Reclaimed Wood – While its still solid wood, reclaimed wood is distinct, special material deserving of its own category. Reclaimed wood can be anything that's been used more than once. Antique reclaimed wood comes from vintage buildings that are 100 to 200 years old. If this option is of interest to you, be prepared. It can often cost double the price of new solid wood.
Alternative Options – The challenge in today's hardwood flooring market is there are so many products that look like real wood, but they are not. They are just a picture of wood on the top surface side. 
Laminate is compressed layers of fiberboard and melamine resin with a photographic image of wood grain on top. It's covered with a clear protective layer that makes it extremely durable.
Luxury Vinyl Planks or LVP is also known for its durability. It is a synthetic material designed to look like wood. Some of them look really good, but others are faker and plastic looking. The biggest selling point is they are significantly less expensive than actual wood. LVP products are on the rise in the flooring industry because they do resemble hardwood floors. You can spill water on them and hose them off because they are sold as "100% waterproof". However, if water does get underneath it, you will still need to take apart the flooring because you don't want mildew growing.